At Popcornopolis, Every Day Brings a Delicious Reward
by
By Robin Mather
From its beginnings as a single store in Southern California, Popcornopolis has grown to be a mail-order and wholesale powerhouse producer of gourmet popcorn snacks.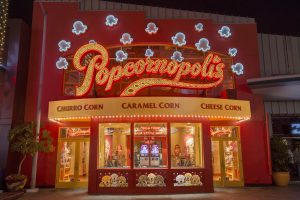 The company, which Wally and Kathy Arnold founded in 2002, began with a year of trial and error as they partnered with popcorn growers in Indiana and Nebraska and consulted premium ingredient suppliers. In 2003, satisfied with their first product, they opened a 1700-square-foot store in Hollywood, California, on Universal's City Walk. The premium popcorn is prepared in small batches, and the company guarantees its products will please its consumers.
Popcornopolis's original flavor was caramel corn, made with cane sugar and real butter. Cheddar Cheese soon followed, and the company says it's consistently in the top three flavors.
As word spread of the company's premium popcorns in the signature cello-wrapped cone, eventually stores opened in California, the Midwest and New England. But we're getting ahead of the story.
The Arnolds' success story, says Marketing Officer Pamela Reardon, "is a little bit different."
Kathy was the original product developer for the company, she says. "She is really a very quality-centered, determined and uncompromising developer. Her success was driven by her insistence on quality ingredients – and on developing relationship with suppliers who would meet her standards. Wally was the sales guy and marketer."
One day, a customer visited the shop and loved the products. A few days later, Costco called. "This was back in the days when every Costco bought independently," says Reardon. "Turns out the customer was a Costco buyer, and was so impressed by the popcorn that they wanted to add it to a Southern California store."
While that sounds like a dream come true for a specialty foods maker, such sudden growth can pose huge challenges for small producers, who suddenly find themselves overwhelmed by sales demand and can't keep pace with higher manufacturing requirements.
Fortunately, says Reardon, "Popcornopolis was able to grow rapidly and move into the club environment, which is very different from retail. They were able to pace their growth as Costco grew, and became a very efficient manufacturer in a plant in El Segundo."
Moving Away from Brick-and-Mortar Stores
Only the Hollywood store is owned by the company, Reardon says. The rest are franchisee-owned, although the company is now less focused on franchising. "Wholesale is one of our most important channels these days. The keys to our business are clubs (such as Costco, Sam's and BJ's Wholesale Club), mass channels such as Wal-Mart and Target, and traditional grocery stores such as Kroger, Safeway and Publix.
"We also sell directly to the consumer via our website, which gives our customers the chance to purchase personal or corporate gifts, and we have a really cool fund-raiser program for schools, athletic associations and other organizations looking to fund-raise with an innovative, wholesome product," Reardon says.
In fact, Popcornopolis has raised more than $10 million for non-profit groups by partnering with organizations that support youth and education across America.
Keeping the Lines Fresh
Today, Popcornopolis offers its customers the difficult choice of 20 flavors. Some are seasonal – Gingerbread and Pumpkin Spice are obviously fall and holiday flavors – while others, such as Almond Caramel and Peanut Butter Cup, are year-round favorites.
Earlier this year, the company debuted its Zebra Popcorn, a new line of five confection-style organic popcorn, with premium chocolate and hand-selected ingredients and no artificial colors, flavors or preservatives. The new flavors are Chocolate Stripe, Chocolate Peanut Butter, White Chocolate Macadamia, Chocolate Candy Cane and White Chocolate Pumpkin Spice. All five are sold in resealable 6-ounce pouches to preserve freshness.
"For our Zebra line, we modeled and executed consumer research that allowed us to include consumer feedback from across the country," Reardon says. "We wanted to avoid regional bias and create products that would delight people everywhere. We're using extraordinarily premium chocolate on the Zebra line, so we have these incredible ingredients that are gluten-free and non-GMO, with clean labeling."
The company had originally planned to launch its new USDA-certified organic line at the same time, Reardon says, but there were some delays in bring a new manufacturing plant online. As a result, the company will deliver its first orders of the organic line in the first quarter of 2018.
It's a Family Affair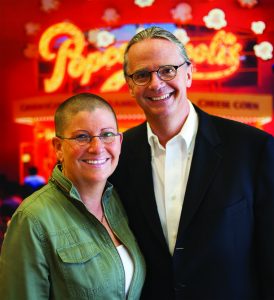 The Arnolds have five sons, and three are now involved directly in the business, Reardon says. "And the son who's still in college was my intern this summer."
As it happens, each son's interests have led him to land in a different segment of the business, something that often doesn't happen in family businesses. "Michael is the vice-president of sales; he's a dynamo. Chris is the plant manager, and Ted's in charge of wholesale distribution. Sam, my intern, is interested in marketing," she says.
"They're very complementary to each other, so they're really on their way to making a very cross-functional leadership team."
The company just moved from its original El Segundo plant into a new 150,000-square-foot manufacturing plant in Mount Vernon, California. Kathy still oversees all of the company's manufacturing, Reardon says, and the company now employs 250 people full time.