Premium Brands Cater to Convenience Channel
by
By Lorrie Baumann
This year's NACS Show offered some real surprises: among them, insight into the extent to which convenience stores are going after a share of consumers' grocery shopping dollars, with some surprising brands eager to help them do it. The NACS Show is the annual trade show for the Association for Convenience Retailing, and it was held October 17-20 at McCormick Place in Chicago, Illinois. This year's show featured dozens of first-year exhibitors, and among them were a host of brands that we're more used to seeing at events like the Fancy Food Shows or the Natural Products Expos.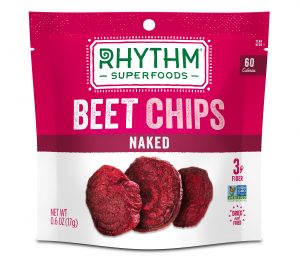 Rhythm Superfoods, for instance, makes Kale Chips and Beet Chips, and the Austin, Texas-based company was at the NACS Show to showcase its new Grab & Go Beet Chips and Kale Chips as well as a Roasted Kale Snack. In January, the company closed a $6 million financing round with a lead investment from 301 INC., the venturing unit of General Mills, and it's currently registering "off-the-charts" growth with its Kale Chips and now its Beet Chips, said Beth Hackford, the company's Natural Foodservice Sales Manager. "People are looking for healthier snack options," she said. "We've been embraced [by the convenience channel]. All different sizes of retailers have been coming by." She added that convenience stores are now looking to appeal to customers who read the backs of packages. Those include Millennial shoppers, who are now reaching the age at which they have small children, and consumer packaged goods companies like Rhythm Superfoods are ready and eager to step up to meet the needs of those customers with package sizes that suit their snacking habits at a price point that works for them. For instance, Rhythm Superfoods developed its new smaller grab-and-go bag particularly for sale at a friendlier price point. The new grab-and-go sizes retail for $2.49, with the Beet Chips packaged as a 0.6-ounce bag and the Kale Chips packaged with 0.75 ounce in the bag.
Convenience stores are seeing traffic from customers who are familiar with the premium brand from their regular grocery stores, and they're just as willing to buy it in a convenience store, said Kelly Bottenfield, the company's Senior Sales Manager for Retail. Both she and Hackford say that convenience store chains are coming to them asking for products because they recognize the brand and are looking for healthier options that will attract the customers they want, which definitely includes those Millennials who are stopping in for snacks that they can feel good about giving to their small children.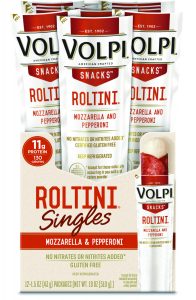 Volpi brought its Roltini, mozzarella cheese and prosciutto rolls either with or without basil and, at 8-ounces, big enough to make a full meal serving or to slice for a party appetizer. Roltini Singles, which are snack-size portions, are offered in Mozzarella and Spicy Salame, Mozzarella and Pepperoni and Mozzarella and Prosciutto varieties packaged in 12-count boxes.
Aunt Butchies of Brooklyn was at the show to offer up a taste of New York for the freezer case with its Cheesecake Cones. In Brooklyn, Aunt Butchies is a bakery and restaurant named after the mother of Owner Frank Santo, who said that since his own childhood nickname was "Stinky," which wasn't suitable for a restaurant, he borrowed his mother's family nickname instead. "It's an Italian family. Everybody has a nickname," he said. Aunt Butchies has been in business for 24 years, starting out as a bakery making cheesecakes and carrot cakes before expanding into foodservice. "In the last couple of years, we started thinking about making things no one else was making," Santo said. The bakery tried out the Cheesecake Cone in its retail store, where it performed well, and is now looking to launch it nationally.
The Cheesecake Cone is a unique product, like a cross between a cannoli, an ice cream cone and a cheesecake. The cone is an made from almonds, butter and sugar, and it's filled with New York-style cheesecake. It's packaged individually for sale from the freezer case, and it's designed to be eaten frozen. Each 4-ounce cone retails for $2.99 to $3.29.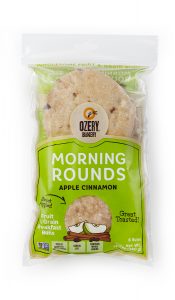 Family-owned Ozery Bakery, which started out as a Toronto, Canada, cafe and pita baker, brought its Morning Rounds[R] to the show as well as snack components and crackers. The Muesli Morning Rounds Single-Serve complements the brand's top-selling full-size product line, Morning Rounds, a line of toastable fruit and grain breakfast buns, which includes flavors such as Cranberry Orange, Apple Cinnamon, Cinnamon & Raisin and Date & Chia. The new item is conveniently packaged as a single serving and contains five grams of protein per serving with no artificial preservatives or flavors. All Ozery Bakery products are free from genetically modified organisms, artificial preservatives, colors and flavors and are prepared with whole grains.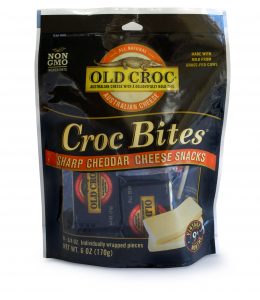 Old Croc, makers of Australian cheddar cheese, is dipping its toes into the convenience market with 3/4-ounce packages of its Sharp Cheddar wrapped for individual sale and branded as Croc Bites. Old Croc cheese is grass-fed and non-GMO, and Croc Bites are also packaged in eight-count bags. The single-serving packages retail for 79 to 99 cents.
For the cheese case, Old Croc is introducing bold flavored cheddars in 6 to 7-ounce cuts. The company swept the flavored cheese category at the 2017 U.S. Cheese Championships with best of class, second award and third award wins. The new flavors include Bacon & Jalapeno, Chipotle & Onion, Horseradish and Roasted Garlic & Herb. The 7-ounce cuts retail for $5.99. Old Croc is distributed in the U.S. by Trugman-Nash, LLC.
Out on the show's main exhibit space, there were a few other familiar names that are very experienced at selling into the convenience channel. Among them, KIND, which is moving into the breakfast space with a couple of product lines, including Pressed by KIND, which are bars that offer a full serving of fruit in two varieties: Dark Chocolate Strawberry and Dark Chocolate Banana. KIND is packaging them in 12-bar boxes for retail sale.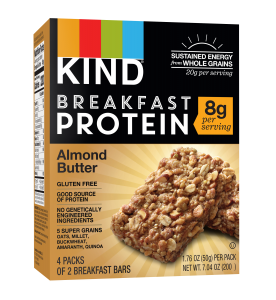 KIND is also offering KIND Breakfast Protein bars, each of which offers 8 grams of protein in a 210-calorie serving of two bars. The KIND Breakfast Protein bars are offered in Crunchy Peanut Butter, Dark Chocolate Nut, Dark Chocolate Cocoa and Almond Butter varieties, and they're packaged as eight two-bar packs.
Loacker was exhibiting at the NACS Show for its fourth year, according to Loacker Vice President of Marketing and Deputy to the President Crystal Black-Davis. "We entered the convenience trade channel two years ago, and we entered with a bang in 7-Eleven," she said. Loacker has responded to the market with different formats and package sizes, but the cookies inside are still the same snacks familiar to Fancy Food Show attendees. "To have a brand like Loacker enter into this trade class with a better-for-you indulgence option means that there's no question why we're performing as well as we are," Black-Davis said.
She agrees that convenience stores are seeing more nutrition-conscious customers who will buy products made with high-quality ingredients wherever they find them. "If you're going to snack, snack well," summarizes that philosophy, she said.
Loacker's 37.5 gram Cocoa & Milk Raspberry Yoghurt Wafer packs and 4.4-ounce bags of Quadratini are both doing well in the convenience channel because they're a better-for-you snack option, Black-Davis said. "We don't compromise on taste, so the indulgence factor is still very prevalent," she said, pointing to a new 54-gram chocolate bar, the Chocolate Creme Napolitaner, which includes hazelnuts as well as a wafer leaf inside each bar. "We offer a premium snack item, and we don't abandon our company DNA, which is the wafer."