Country Archer Positions its Meat Snacks as Paleo Perfect
by
By Robin Mather
Stopping at a roadside stand on their way to the Grand Canyon in 1977, Eugene and Susan Kang discovered Celestino Mirarchi's clean meat snacks, and the seed for Country Archer Jerky Co. was sown.
Mirarchi's extra-lean jerky captivated the couple, and the three quickly became business partners.
Based in Southern California, Country Archer says it's the fastest growing jerky brand in the United States. Its savory meat-based snacks are all gluten-free, and free from nitrites, MSG, soy, antibiotic and added hormones. The company chooses better-for-you ingredients such as USDA-inspected 100 percent grass-fed beef and antibiotic-free pork and turkey, all sourced from organic local suppliers. All are low in sugar or sugar free, and the company promotes its meat snacks as perfect for consumers who follow a paleo diet.
Today, the company continues to produce hand-crafted products by hand-slicing, marinating and packaging its meat snacks at San Bernardino, California, smokehouse, in just the way that Mirarchi first began producing them.
Country Archer's jerky, meat sticks and Frontier Bars all come in beef and turkey proteins.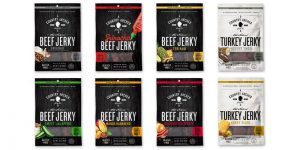 The beef jerky, available in Original, Sriracha, Teriyaki, Sweet Jalapeno, Mango Habanero and Crushed Red Pepper flavors, is made in small batches from USDA-inspected, 100 percent grass-fed beef. Suggested retail price is $6 for a 3-ounce bag, $14 for an 8-ounce bag or $20 for a 16-ounce bag.
The turkey jerky, made from slices of marinated turkey breast which are then smoked, comes in two flavors: Hickory Smoke and Honey Dijon. Suggested retail is $6 for a 2.75-ounce bag, $14 for an 8-ounce bag or $30 for a 12-count bag of 1.5 ounce bags.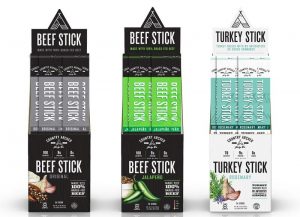 The beef meat sticks, featuring nine grams of protein, come in Original and Jalapeno flavors. Their suggested retail price is $2 for a 1-ounce stick, $14 for a box of eight 1-ounce sticks and $40 for a 24-count box of 1-ounce sticks.
Turkey meat sticks come in a single flavor, Rosemary, with suggested retail prices the same as the beef meat sticks.
Frontier Bars are flavorful pork or turkey bars with 20 grams of protein per bar. The company says they're perfect for taking to the gym or on a hike. Pork bars come in Cayenne Beef with Pork and Savory BBQ pork; turkey bars come in Herb Citrus Turkey flavor. Both types have suggested retail prices of $3 for a 1.5 ounce bar, or $30 for a 12-count box.
Country Archer's products are available nationally at Kroger, Ralphs, Sprouts, King Soopers, Cost Plus World Market and other outlets. They're also available online through Amazon and the company's own website, www.countryarcher.com.