Velvet Ice Cream Introduces Seven New Flavors
by
Velvet Ice Cream is adding six new flavors to its premium line and one new flavor, Chocolate Peanut Butter, to its lineup of pints. The premium line flavors include the 2016 Ohio State Fair flavor, Banana Cream Pie, as well as Chocolate Chip, Kentucky Praline Pecan, Strawberry Cheesecake, Campfire S'mores and Salty Caramel.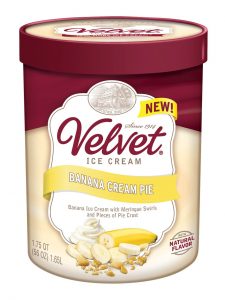 Banana Cream Pie was inspired by nostalgia-infused state fair pie-baking contests and is made from creamy banana ice cream with swirls of meringue and pieces of flaky pie crust.
Fans of the salty-yet-sweet flavor combinations will love Velvet's two new flavors that offer that flavor profile: Kentucky Praline Pecan, which starts with praline ice cream and is swirled with caramel sauce and studded with candied pecans. Salty Caramel is doubly delightful, with its salty-sweet caramel ice cream and ribbons of thick, salty caramel.
Chocolate lovers will also be satisfied by the classic Chocolate Chip flavor, which features Velvet's classic vanilla ice cream blended with decadent chocolate chips. Perfect for summertime, Campfire S'mores blends its unique toasted marshmallow ice cream with rich chunks of chocolate and graham crackers to take ice cream lovers back to summertime campfires. Finally, Strawberry Cheesecake is starts with a rich cheesecake ice cream and is blended with sweet strawberry preserves and bits of graham cracker crust.
The new Chocolate Peanut Butter flavor, which will only be available in pints, blends creamy slightly salty peanut butter with rich chocolate ice cream.
The exciting new lineup of flavors will be in stores by March 15. In addition, when Velvet Ice Cream's Ye Olde Mill opens its doors for the season in April, ice cream lovers will be able to try all of the brand-new flavor combinations in cups, cones, sundaes or shakes. More information, including details on visiting the factory at Ye Olde Mill and a full list of Velvet products, is available at VelvetIceCream.com.
2018 marks 104 years of business for Velvet Ice Cream. Founded in 1914 by Joseph Dager, four generations of Dagers have since run the company, which is located in Utica, Ohio, on 25 acres of the perfect combination of wooded countryside and rolling, pastoral farmland. Still family-owned and operated, Velvet produces and distributes more than 5 million gallons of ice cream every year from its headquarters on the grounds of Ye Olde Mill. Ye Olde Mill also houses an ice cream and milling museum, a restaurant, playground, picnic area and catch-and-release fish pond.
Named by Frommer's as one of America's 10 Best Ice Cream Factory Tours, Velvet's Ye Olde Mill welcomes 150,000 visitors each year for tours, tastings and events. The annual Ice Cream Festival (May 26-28, 2018), group tour experiences and school learning field trips are among the many draws to Ye Olde Mill, which is open to the public April 20-October 31. Complete information about Velvet Ice Cream and Ye Olde Mill is available www.VelvetIceCream.com.