Two New Bars from Chocolate Chocolate Chocolate Company
by
Chocolate Chocolate Chocolate Company is introducing two new craft chocolate bars in 2018. The collection now includes Happy Birthday Truffle and Cannoli Truffle. The two flavors were the top finalists in a taste testing panel from the company tasting room located at the chocolate factory.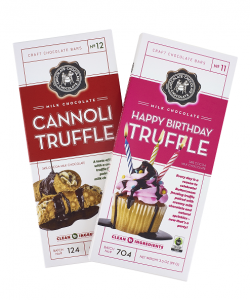 Happy Birthday Truffle combines the sweet buttercream cake icing, Fair Trade Certified™ milk chocolate and naturally colored sprinkles to make a fun and exciting new flavor. The Cannoli Truffle is a tribute to the location of the factory on The Hill in Saint Louis, Missouri – which is best known as the "Little Italy" of Saint Louis. The Cannoli bar starts with a cannoli filling flavored ganache, is drenched in Fair Trade Certified milk chocolate and topped with broken cannoli shells and chocolate chips. One bite and you'll think you're eating real cannoli!
The 3.5-ounce (99 gram) tablet bars are a part of a collection that includes Milk Sea Salt Caramel, Dark Sea Salt Caramel, Dark Strawberry Champagne Truffle, Dark Blood Orange Caramel, Dark BEE-Berry Honey Caramel, Milk Waffle Cone Caramel, Milk Peanut Butter Banana, Milk Pumpkin Spice Latte (seasonal) and White & Dark Peppermint Bark bar (seasonal).
Chocolate Chocolate Chocolate Company was founded in 1981 and is headquartered in Saint Louis, Missouri. The company is family owned and operated and specializes in manufacturing Craft Chocolate Bars, Caramels and Artisan Truffles. The company's products can be found in all 50 states and several countries with its contract manufacturing division.